Understanding Instagram's New Hashtag Follow Feature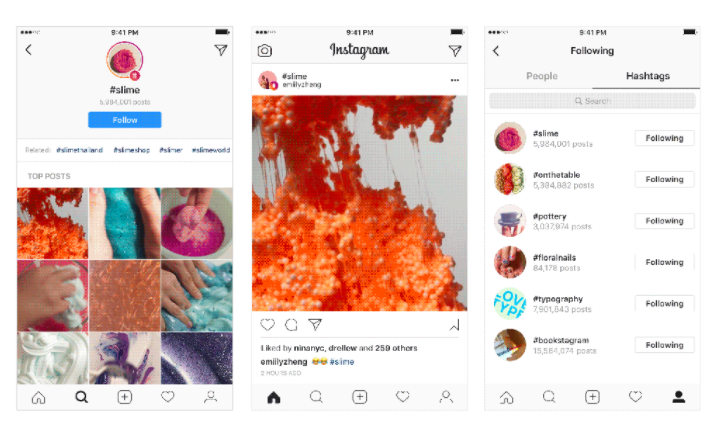 Earlier this week, Instagram announced users would now be able to follow subject-specific hashtags. While the update is sure to make it easier for Instagram fans to find content, there's a "bigger picture" at work here, one that may have bigger repercussions for brands. Here are thoughts on how this new feature may benefit marketers, both now and in the future.
Makes it easier to find and connect with potential customers: Brands that are hoping to understand their target consumers' behavior on Instagram are likely to appreciate the subject-specific tools offered by the company's new feature. As an analysis by The Verge noted, many marketers increasingly use hashtag searches as real-time focus groups, scanning relevant hashtag topics to learn what their customers are saying about them and what they like about their products. Having the ability to now "follow" these conversations will make it even easier to keep track of the conversation.
It's a new way to start a "social movement:" While some marketers are content to simply use hashtags as a research tool, other companies are taking this idea one step further as they encourage adoption of their own company-branded hashtags and themes. As an example, consider the backpack and accessory company Herschel Supply Co. who has used the tag #welltraveled to encourage their fans to post about adventures using their products. Once again, the ability to "follow" specific hashtags will serve to further amplify this tactic. Brands can now ask followers to not only post using their hashtag, they could even use it to develop custom grassroots content campaigns.
Lays the groundwork for future ad opportunities: While it's true that today there's no advertising opportunity associated with the new hashtag follow feature, it's easy to see how this might be deployed in the future. Want to target Instagram users that like street style? Or coffee fanatics? Having follow-focused hashtags integrated into users' feeds will make it easier for marketers to reach customers not just based on their demographic profile, but by using their "psychographic" interests as well. There's no ads in the follow feature just yet, but there's a decent chance it may show up in the near future if following hashtags proves successful.
Instagram is already a hugely attractive platform, both for marketers and creators alike. But with the addition of its new hashtag following feature, the photo-sharing platform looks like it's ready to help take user discovery and engagement to the next level. Best of all, brands have plenty to gain from the change as well. Wondering how you might make use of this new follow feature? Reach out to the experts at Captiv8 today.