Ahead of Snap's first quarterly earnings call with investors today, there's lots of speculation about the company's performance. Not only has Facebook-owned Instagram been copying Snapchat's most successful features like Stories, it's also managed to slow, and possibly stop, the upward increase in users flocking to the Snapchat platform. But these macro-level examinations of Snap's daily average users can only go so far. In order to better understand what's happening with Snap, we need to look at how the creators, individuals who have outsize importance to consumers' use of such platforms, are engaging with both Snapchat and Instagram Stories.
Here's what we learned from proprietary data gathered from the Captiv8 platform, examining influencer usage across the two platforms: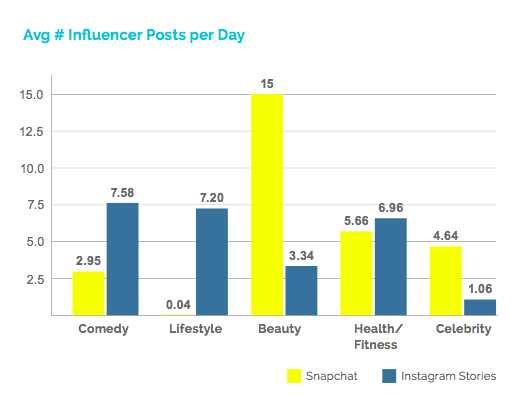 Instagram stories sees more overall usage among creators than Snapchat: 57% of influencers examined by Captiv8 post more frequently on Instagram Stories than on Snapchat. While it's hard to say for certain, this may represent a larger shift in momentum among both creators and possibly consumers away from the platform.
Beauty and celebrity content are better performers for Snapchat: Although Instagram Stories is seeing higher creator engagement in many categories like comedy, health/fitness and lifestyle, Snapchat still holds an edge when it comes to posts by beauty and traditional celebrity-focused creators. This was especially true for the beauty category, where the volume of posts on Snapchat beat out Instagram by nearly 5 to 1.
Video posts are the preferred content format for both platforms: Both Snapchat and Instagram Stories allow users to post images and video. However, it's video content that seems to be gaining traction most among creators. Captiv8's research found that more than three-quarters of all creator posts on the two platforms was video rather than photo content, suggesting an important strategy for brands moving forward.
You can read the full report here.
The battle between Snapchat and Instagram is just getting started. In the coming months we will continue to share updates on the latest social insights documenting the continued conflict between these two social media heavyweights. Keep an eye out!