Why Selfies Can Actually Make Sense For Your Brand

"Selfie" has set up camp in our everyday language, in 2014 it was even added to the Dictionary! But it's certainly still controversial. For every person who embraces social media's self-portraits; there's a critic who finds them ego-centric.
It might be true when adopted simply to follow a trend, a selfie campaign might do your brand more harm than good. If it's not right for your audience your efforts might cause offense, and if you don't channel the 'right' sort of selfie for your brand you could find your campaign spiraling off message.
But behind the trend of a selfie is an open and highly personal way to engage on social media. In channeling some of this engagement, there are several different brands that have made real successes of a selfie campaign.
Turkish Airlines – Celebrity Selfies
Turkish Airlines brought in the big dogs with a travel-selfie themed video featuring football champion Lionel Messi and basketball star Kobe Bryant. Staying relevant to the brand – and adding an appropriate dose of humor – this campaign found a strong marketing angle for a timely trend.
Turkish Airlines decided, however, to keep the selfie motif strictly for their own marketing. Although popular with a social audience, they didn't follow this up with a participatory campaign on social networks.
Baublebar – Selfies Integrated into the Brand
Jewelry brand @baublebar has adopted selfies wholeheartedly. The company's Instagram profile calls for customers to share photos of themselves wearing Baublebar products with the #baublebar hashtag. What's more, this User Generated Content has been more widely shared on the brand's ecommerce site.
Baublebar has fully embraced selfies in a way that's engaging for their customers and can have longevity even if the buzzword dies out.
Frank – Selfie Momentum for Launch
Frank Body makes body scrubs from used coffee grinds. When taking their business to market, founders Erika Geraerts, Bree Johnson and Jess Hatzis decided to take selfies while covered in their very own body scrub and post them to various social networks. Working in conjunction with select social media and blogging influencers, the trio's #thefrankeffect selfie campaign took off rapidly and became one of the brand's most important sources of awareness.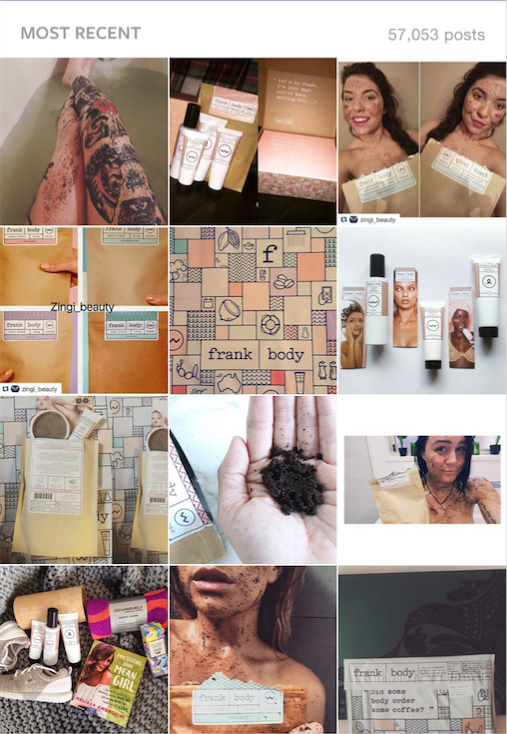 ---
Each of these brands went for an integrated approach to selfie marketing that fit with their wider marketing strategy both on theme and delivery. If you come up with a good campaign that's solid at its core, you can engage your audience in a number of different ways.
And remember, User Generated Content isn't restricted to selfies. Kicking things off with a sponsored post that targets the right market can help you to focus your efforts and dramatically expand your reach. And any campaign that invites UGC can provide you with a bank of fresh new content to use in fun and interesting ways for your own social and website content.
Yet whenever thinking about embracing a trend for your marketing campaigns, you should always be aware of what's been and gone, and what's coming next. The selfie itself is already evolving, with the apparition of velfies, nelfies, and even the humorous spinonff – felfies. There's little worse than just missing the boat on a fad that's dying out. Social business expert Carolyn Blunt advises, "make sure you use [selfies] while they are current and take them out of your marketing plans as soon as they become tired…"
So think about whether selfies could actually work for your brand, but think fast.