On October 4th, 2017, World Animal Day will be celebrated across the globe to help promote the health and wellness of all animals. This day also sheds light on how many animals need good homes and loving owners. It is up to us to improve the welfare standards around the globe for animals. Below are a few top pet influencers who remind us just how animals make the world a better place.
Boo the dog keeps his followers spirits high with his friendly face and adorable outfits. He often spends his time on adventures with his human parents and cuddling with his doggy brothers, Blue and Buddy. He has over 17 Million Facebook followers who can always count on Boo when they are feeling blue.
Doug the Pug is one of the most followed animals on social media! This year he won the title of "Instagrammer of the Year" at the Shorty Awards of the 2017. He has become a celebrity among the animal community, snagging spots on some of TV's most prominent shows such as Jimmy Fallon, The View, Good Morning America and The TODAY show. Doug has 10 million+ followers across his social media channels. His Facebook video views top 1 Billion – thats big stuff! You an catch this pup hanging out with some of the today's most influential stars such as Justin Bieber, Ed Sheeran, Steven Tyler, John Legend and Chrissy Teigen, Shakira, Katy Perry, and Dolly Parton, to name a few.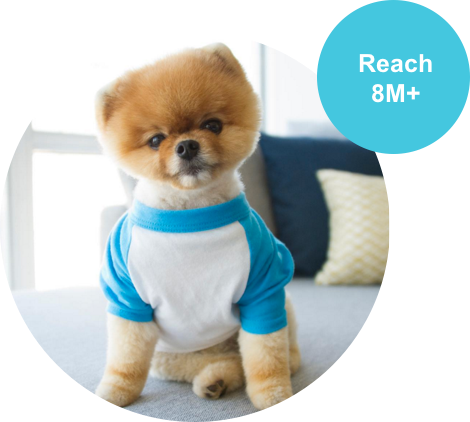 Jiff Pom is an actor, model, and most recently, a published doggy author. Jiff Pom has over 6 million Instagram followers and has done work with the celebrities like Katy Perry. Jiff has been seen on the Disney channel and is not stopping there. He often is featured in TV commercials and Jiff's career goals include one day breaking out into feature films as well. The world is Jiff's oyster!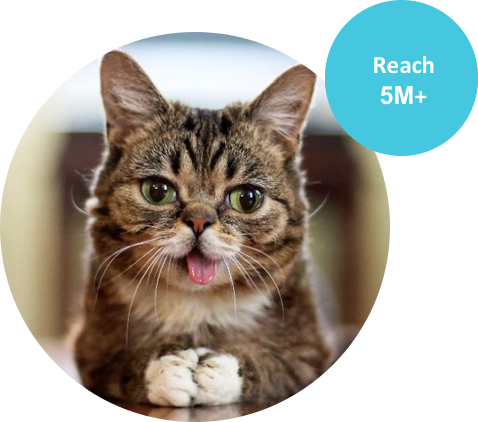 Getting her start on Tumblr, Lil Bub is a celebrity dwarf cat, who has been on the social media scene since 2011. She is not only a social media starlet, but is an activist for animal rescue as well. With over 1 million followers on Instagram and over 2 million Facebook followers, Lil Bub promotes her book "Lil Bub's Lil Book: The Extraordinary Life of the Most Amazing Cat on the Planet", her documentary "Lil Bub & Friendz" and her hit record Science & Magic. A portion of all proceeds from her merchandise, go directly to animal rescue groups. Lil Bub shows that little dwarf cats can help improve the lives of countless animals in need.
Reach out to partner with an Influencer on your next campaign!