Earlier this week, Instagram announced a new feature that lets users create custom slideshows with up to 10 photos and videos in a single interactive gallery. This new carousel-style publishing tool offers Instagram users and brands a whole range of new options for building and engaging their audience.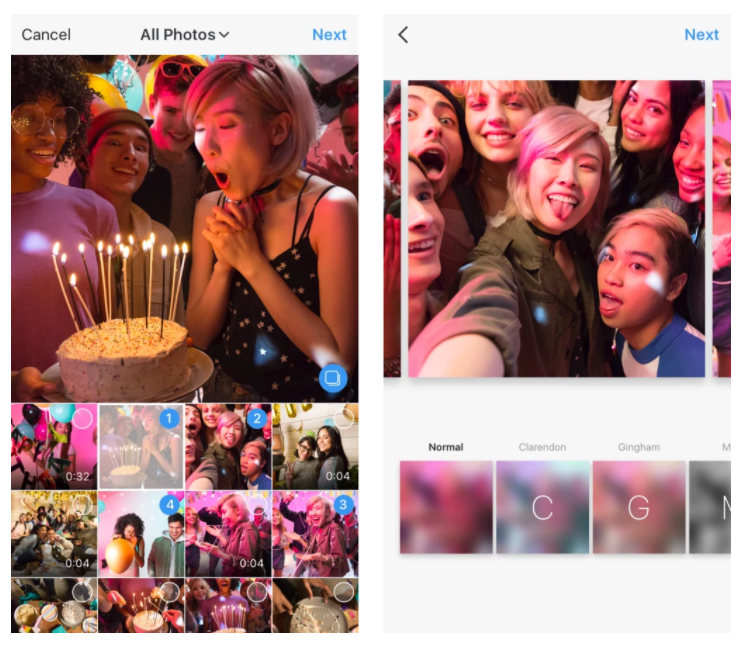 How might marketers take advantage of these new features? We investigate a few potential options below:
Use content to create a narrative – They say a "picture is worth a thousand words." But what about 10 pictures? Or 10 videos? The sequential nature of slideshows lends itself to creating interactive stories, offering all kinds of interesting narrative possibilities for brands. What if you followed an influencer on a full-day adventure? Or showed off a new car on a week-long road trip? Instagram slideshows offer plenty of opportunity to tell those stories with more depth than a single image or video.
Run a teaser campaign – Following on the idea above, not every story needs to end after just one slideshow. Another option is creating a teaser campaign, offering a sneak peek at an upcoming product, feature, or event. This is a great opportunity for entertainment brands, electronics companies, car companies and beyond. By the time your audience gets to the end of the slideshow, they'll be hungry to know more.
Recap an event – Events are a big part of marketing in industries like entertainment, fashion and sports, and slideshow galleries offer a great way to summarize the experience. Your brand might feature all the celebrities and influencers that walked down the red carpet, highlight key soundbites from event speakers, or recap all the top announcements in one place.
Develop a "how-to" post – Brands that focus on inspiring creativity might consider building a "how-to" post that inspires their followers to work on all kinds of projects. For companies from the CPG industry, that might mean a step-by-step cooking recipe. For brands focusing on sports and fitness, you could teach followers a new exercise move or skill.
Show off a collection – There's no question that eCommerce retailers are already using Instagram to promote and sell their products. The power of Instagram's new slideshow feature is that merchants can now display more of their wares in a single post. Have a product that comes in multiple colors or styles? Show them all off at once. Want to showcase a new product line? Display all of the items together. This is particularly powerful given Instagram's growing focus on "buy now" sponsor campaigns.
Thanks to platforms like Instagram, YouTube and Snapchat, marketers already have lots of great storytelling options. This week's new Instagram slideshow feature adds yet another compelling tool to the arsenal.
Want to brainstorm ideas for how your brand can bring your next Instagram slideshow to life? Get in touch with the Captiv8 team today!