Hashtags might seem like an obvious addition to your post. They are the core of search & discovery for social and an easy way to categorize your content. They also allow us to become part of a larger conversation. Who hasn't posted a #TBT? So how do you make sure you are using them correctly? We've outlined 3 tips to help you maximize your hashtag strategy…
Know Which Hashtags are Performing

Hashtags can directly impact the reach and engagement of your posts. Use an analytics platform to identify what hashtags are most successful so that you can continue to use them for higher reach and engagement. Here's an example of insights we pulled for food blogger (and wife of NBA MVP, Steph Curry), Ayesha Curry. We identified the top hashtags during the past 30 days. Using a tag that ties to a larger brand but is also true to her content (food), for example #sonomabrands, performed the best of all hashtags used with 15.88% in terms of likes.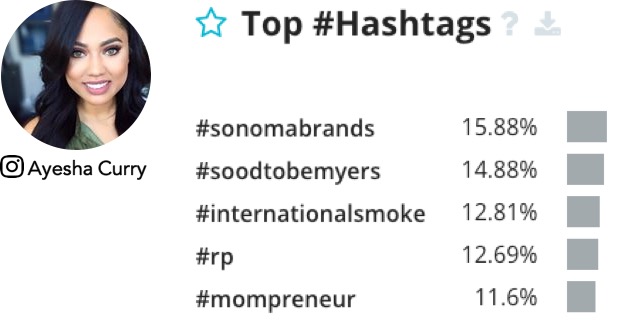 Less Could be More

Over-tagging is annoying for the user and an obvious tactic for those trying to boost their reach. You need to find the right balance between aiding your post with tags and being authentic. Based on our experience, we've found that using 2-3 hashtags per post performs best for brands and creators; this is true regardless of social platform. Avoid using tags that aren't relevant to your post and also those that you've experimented with in the past but have proven to be unsuccessful.
Also having less hashtags will actually help concentrate the conversations around the select few and help those important hashtags gain traction/begin trending. Having too many hashtags will dilute the conversation when people interacting with the content don't know which ones to use.

Customize Your Tags

Tagging your own brand or account name isn't needed. Instead come up with a unique tag that represents YOU! The goal is to create an emotional connection with your followers. Honda uses #HondaLove as a way to acknowledge Honda owner pride and uses it to have a 1:1 conversation with happy customers.
The proof is evident, not only does Honda use the hashtag but they've gotten their followers to engage with them by using the hashtag…perfection!
#hondalove is the top used hashtag across twitter for Honda within the past month. In the past 30 days, 45.21% of tweets with hashtags included #hondalove.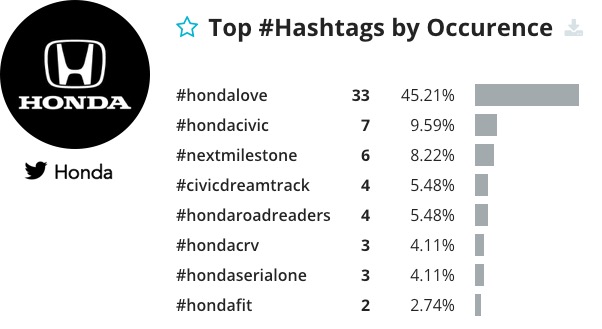 While it isn't the top performing hashtag for Honda in terms of likes or retweets (this isn't surprising as the tag is used more for 1:1 conversations), it is still proving to be successful as the tag has had over 1.7k engagements in July alone.
Happy Hashtaging!