A Look Into the 2016 #Oscars
There were 253.6k public posts tagged with #Oscars and over 50m likes and 987k comments, that's more than any other awards show this year. While the Golden Globes is known for it's less formal and fun vibe, the Oscars had 30% more posts and 2X the number of likes. Using Captiv8 Insights, we pulled some of the key activity across social from Hollywood's biggest night…
Leo Dominated…EVERYWHERE

The Best Actor winner #LeonardoDiCarprio was the #2 hashtag associated with the event and his Instagram account was tagged over 25k times. He was the clear winner both in terms of the actual show and across social. Whether in funny memes or heartfelt tributes from his peers, The Revenant star was the main topic of discussion. Our favorite Leo meme of the night from @TheFatJewish…
And our favorite winning moment reaction from @LoganPaul..
Top Posts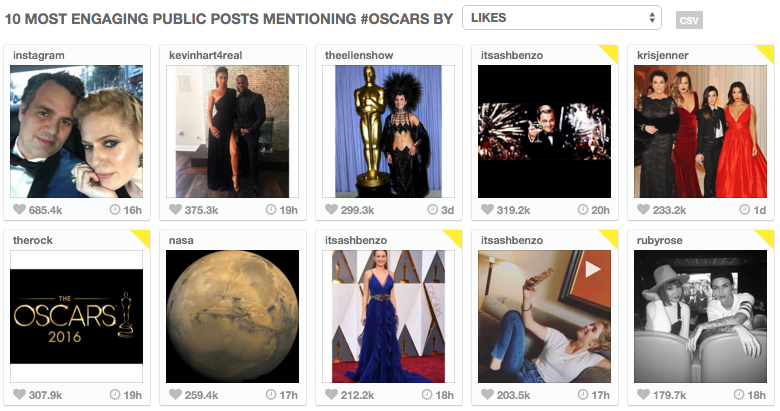 The top posts came from well-known celebs like Kevin Hart, the Rock and Pretty Little Liar's, Ash Benzo. But most surprising? Nasa competed against #redcarpet glam and celeb selfies to make it into the Top 10. The strategy to connect with their audience during a huge pop culture event proved to be successful, gaining over 250k likes on their educational post about The Red Planet. The nod to #TheMartian was the perfect way to connect what their audience is passionate about with what most of the social world was talking about.
Over half of the posts were from outside the U.S.
While 45% of the posts were from the US, movie fans from across the globe took to social media to share their excitement for the event. Indonesia had the second highest number of posts (13%), followed by Brazil (4.7%) and the UK (3.3%).
To find out more or to track your own account and hashtags, sign up today!